AM-TECH Electrical: Website Reconstruction
During my time at Am-Tech Electrical Inc. in the fall of 2020, my fellow worker and I decided we would take on the reconstruction of AM-TECH's 8-year-old website. We had approximately one month to complete the design and launch the website before our term at the company was over. View AM-TECH WEBSITE
Our vision for the website was to create a space for the company to demonstrate its expansive portfolio of successful projects while facilitating client interaction. Furthermore, we intended to create a modular and flexible site so that future updates would be quick and easy. Finally, we intended to create a web presence commensurate to AM-TECH's prestige in the industry. To meet this vision we decided to make several fundamental additions alongside new text and branding, including upgrading the site from PHP to WordPress technology.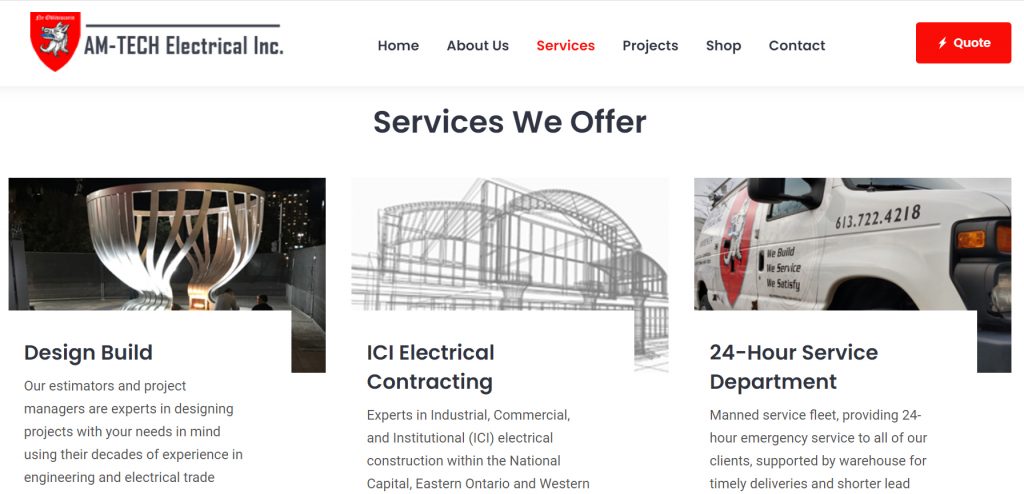 Project Browser
Working in conjunction with AM-TECH management, we decided on 21 of AM-TECH's best projects over its 40+ years of service in the National Capital Region. Developing descriptions based on interviews with project managers and existing documentation, we created a comprehensive library of AM-TECH's experience. Each project entry included captivating imagery and detailed project descriptions.
Client Connection
In order to increase the flow of service jobs into the estimating department at AM-TECH, our team focused heavily on client-facing calls to action. We included numerous contact forms on the website to facilitate quote requests. Within less than a week of launch, the website brought in multiple new service jobs from smaller building managers in the area. The AM-TECH estimating department was impressed with the performance of the site in that regard.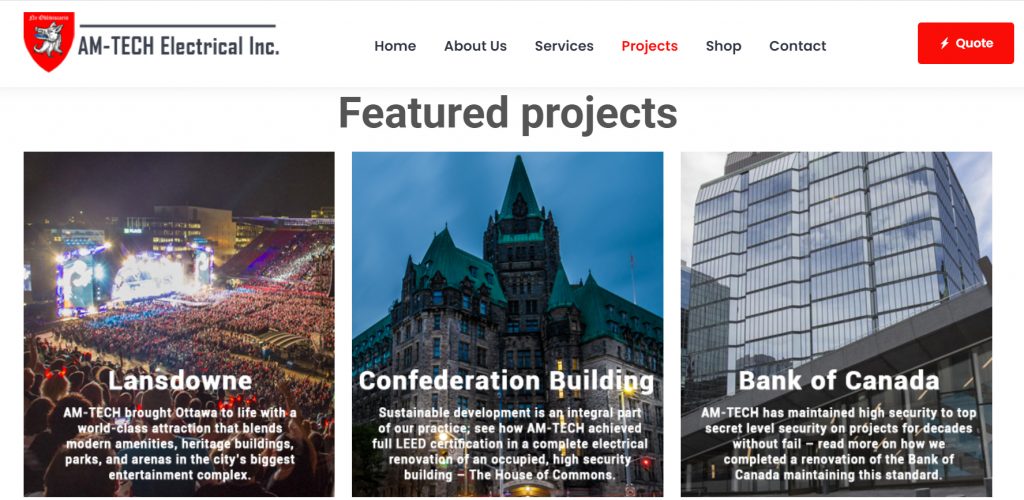 Branding and Content
As the site would represent AM-TECH worldwide, capturing their professionalism and excellence was key. The home page features a testimonial section that includes reviews from AM-TECH's most important clients and colleagues in the industry. The imagery was carefully selected for the highest impact on the user experience. In many cases, when I was unsatisfied by available imagery, I would visit projects myself to take pictures.
Client Reception
AM-TECH's chief management was impressed by the site's look and feel, as well as all of the new features. The President and CEO both expressed their gratitude for our hard work and were pleased that the project was delivered on time and far under budget.